Argan oil is a well-known oil in the beauty world and many women use it as the first oil when starting to follow a more conscious hair care routine, doing hair oil treatments or growing longer lashes and thicker brows. Are you searching for an effective and lightweight oil for your daily beauty routine? Then Nanoil Argan Oil is your new must-have! Read more about the best-selling beauty oil.
History of argan oil in a nutshell
There's a reason why argan oil is called Moroccan liquid gold. It's extracted from the Argan tree (Argania spinosa), a plant growing only in the southern and western regions of Morocco. This long-lived, evergreen tree handles the harshest conditions such as droughts. On average, one tree gives fruits that can be used for producing one liter of oil every year. The fruits look like tiny yellow plums and are rich in oily seeds that are used for extraction of the precious gold oil.
Originally, Moroccan women would press the oil manually and use it in folk medicine. For several years now it has been one of the most wanted oils on the cosmetic market. Now, Nanoil respects the Moroccan tradition and produces oil from fresh seeds of Argan trees, rich in unsaturated fatty acids and phytosterols. The precious ingredients are heaven for our skin and hair.
Why should you choose Nanoil Argan Oil?
This mild oil having a subtle nut aroma is already super popular on Instagram and TikTok. For a good reason! Nanoil Argan Oil is both extremely rich and abounding in nutrients plus feeling light and comfortable to use. This fantastic beauty enhancer is an excellent remedy for irritated, sensitive skin, damaged hair, brittle hair ends, falling out lashes and brows, and many more problems!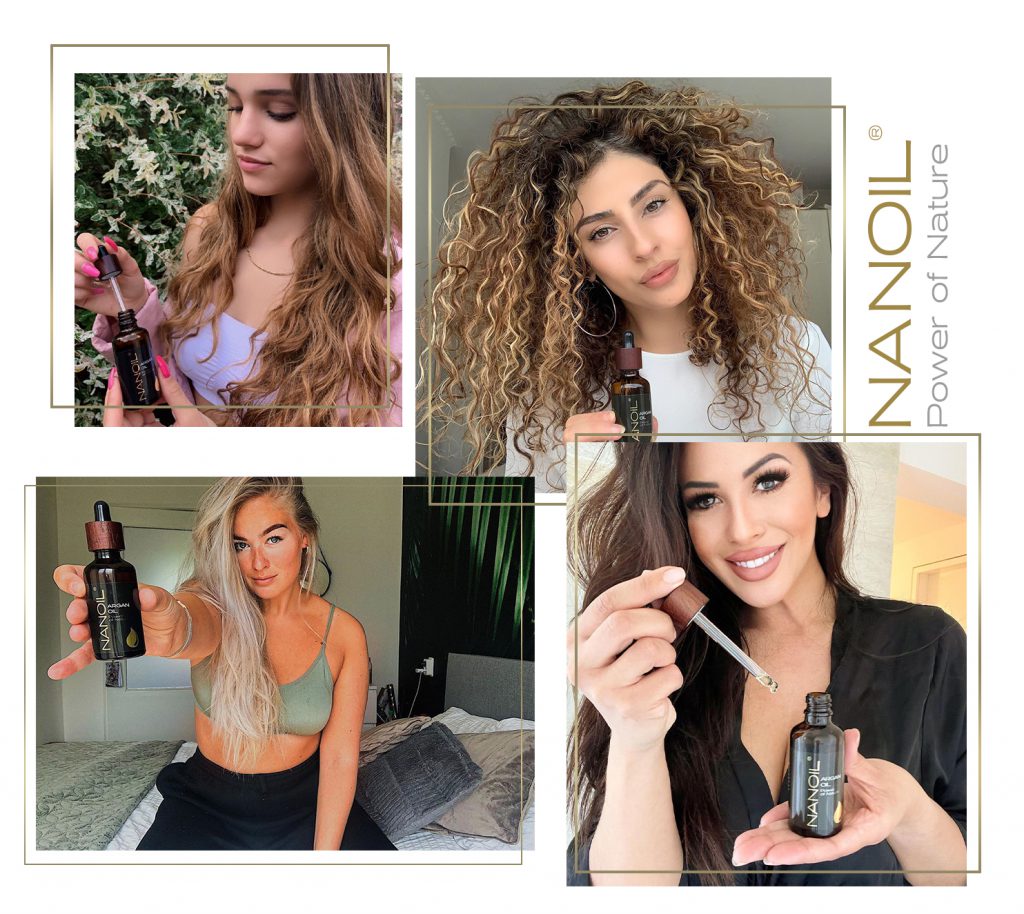 What problems will you solve using Nanoil Argan Oil?
loss of skin's elasticity and plumpness,
skin irritations and sunburns,
harmful effect of UV rays,
fine lines, imperfections, uneven skin tone,
brittle nails and dry cuticles,
damaged, frizzy hair,
thinning, short lashes and brows,
dry, irritated scalp,
stopped hair growth,
chapped lips.
This multitasking beauty oil will bring endless benefits in your daily beauty routine. Feel free to use it as a face, lash or brow serum, body lotion or hair conditioner. It will work wonders if you don't like heavy, thick oils but you definitely want oils in your hair care. Try Nanoil and see that they can be comfortable to use and extremely beneficial.
On top of that, Nanoil Argan Oil is a rich source of fatty acids that are great for human body, plus squalane, tocopherols, phytosterols and vitamin E which are responsible for, among others, moisturizing the skin, delivering elasticity, and maintaining skin and hair health.
Tocopherols – antioxidants which counteract damaging free radicals.
Squalane – an ingredient in sebum, creates a barrier on the skin surface to protect it from the negative effect of external conditions, plus it has anticancer properties.
Phytosterols – substances that strengthen skin's protective barrier and stop loss of hydration.
Carotenoids – natural pigments that inhibit oxidation and stimulate production of collagen.
While searching for a quality argan oil, go for a safe and trusted formula which is 100 percent natural and organic. Nanoil Argan Oil has the highest quality which is confirmed by the ECOCERT label. According to shoppers it is the best argan oil on the market.

How to use Nanoil Argan Oil?
Nanoil's argan oil is extremely useful and can be used in many different ways. It serves as many cosmetics.
Alternative for a facial serum
Nanoil Argan Oil makes a brilliant natural oil-serum. It will be perfect for dry, aging or sensitive skin but it can be used on all skin types. You just need to dab a few drops on the skin and pat it on gently. It's easy because the oil comes with a dropper. There's hardly any greasy coating left on the skin. Ideally, apply it after face washing before sleep – it will act as a hydrating night serum.
Addition to face or body cream
A face cream isn't enough for your dry skin? Enrich it with a drop of argan oil. It will boost the moisturizing and repairing effect of your moisturizer or body lotion. Nanoil Argan Oil can be mixed with other oils and used for DIY beauty treatments.
Alternative for eyelash or eyebrow serum
Regular application of Nanoil Argan Oil will improve your brows and lashes better than many commercially-available serums. Use a clean brush – from mascara or brow gel – and dab the oil on each hair. Apply it before sleep or during the day when you don't apply any make-up.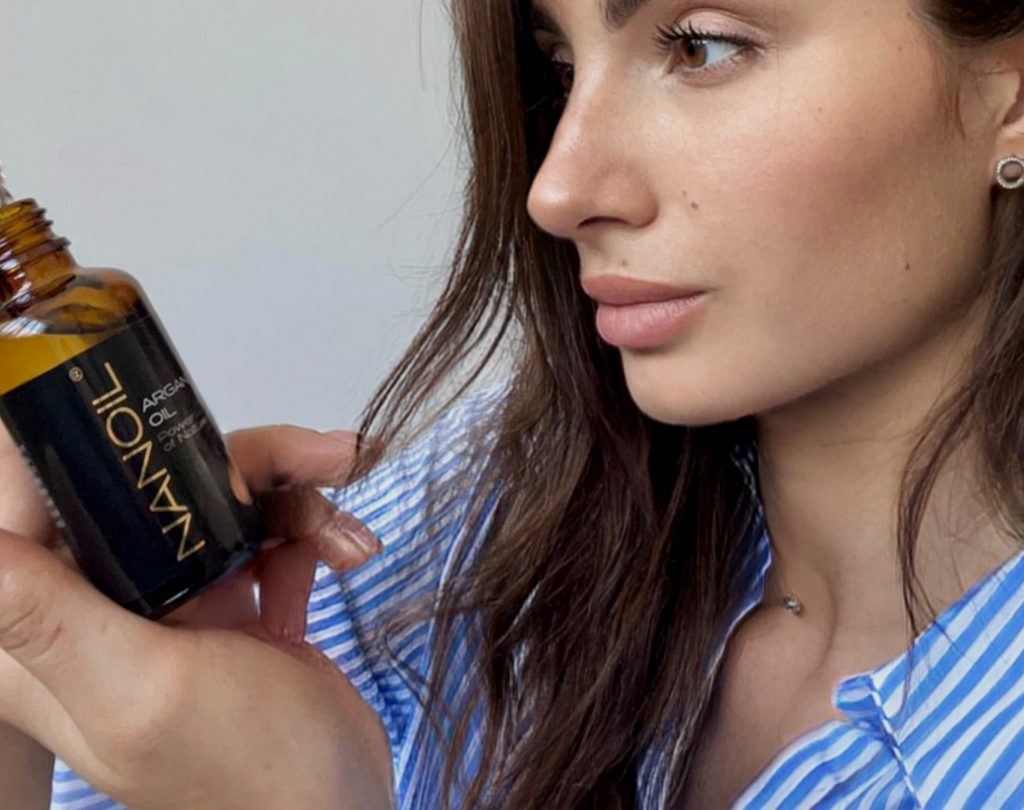 Where to buy Nanoil Argan Oil?
Visit nanoil.co.uk, add it to the cart and choose the most convenient delivery method.