There are some questions that you are ashamed to ask. There are others, which you would rather not know the answers to. However, when it comes to Nanoil, you should know everything. Read the text to discover the biggest secret of this excellent hair care product. We dispel all your doubts about the care of your scalp and hair.
1. Who can use Nanoil hair oil?
Nanoil is recommended for absolutely everyone, regardless of age, gender and type of hair. Everyone can use this oil and enjoy its great properties and instant effects. The key to success is to determine the porosity of your hair and select the appropriate version of oil. Then, you will certainly achieve great results, and your hair will be healthy, shiny and deeply nourished.
2. How does Nanoil work?
It all dependants on the version of the product you choose. You can distinguish Nanoil for low porosity hair – smooth and shiny, and also difficult to style and hard to wet it. The product will not only enhance its beauty, but also facilitate styling and help in daily care. Nanoil for high porosity hair has smoothing properties that tame unruly strands. Furthermore, the cosmetic provides hair with healthy glow and protect against the loss of proper level of hydration. There is also Nanoil for medium porosity hair. Balanced ingredients contained are responsible for smoothing and rejuvenating dry ends. What is more, they restore the proper pH of the scalp and regulate sebaceous glands (excessive sebum secretion can cause oily scalp and hair).
3. Does each Nanoil version have different composition?
Yes! That is the innovation of this precious oil. Thinking about women's needs, the producer created as many versions of the cosmetic, as many hair porosities you can encounter. Thus we have oils for low, high and medium porosity hair. In order to bring stunning results (nurture and condition hair and scalp), it must contain a particular set of components. These substances were carefully selected and matched to the scalp type as well as to the structure, type and hair damage degree.
Nanoil for low porosity hair contains vitamins A and E, panthenol, Kerastim and Baicapil, UV filter, Shea butter and the following oils: cupuaçu oil, cedar oil, coconut oil, argan oil, castor oil, maracuja oil, babassu oil and monoi oil.
Nanoil for high porosity hair contains vitamin E, UV filter, panthenol, keratin, silk, lanolin and Kerastim, Baicapil and the following oils: almond, argan oil, evening primrose oil, avocado, maracuja, cotton seed;
Nanoil for medium porosity hair contains vitamins A and E, Kerastim and Baicapil, UV filter, silk and the following oils: macadamia, argan, marula, jojoba, maracuja and coconut oil.
4. How to use Nanoil?
Nanoil can be used in several different ways. This allows you to choose the method of application that will give you optimal results and also be a good fun. How, then apply Nanoil?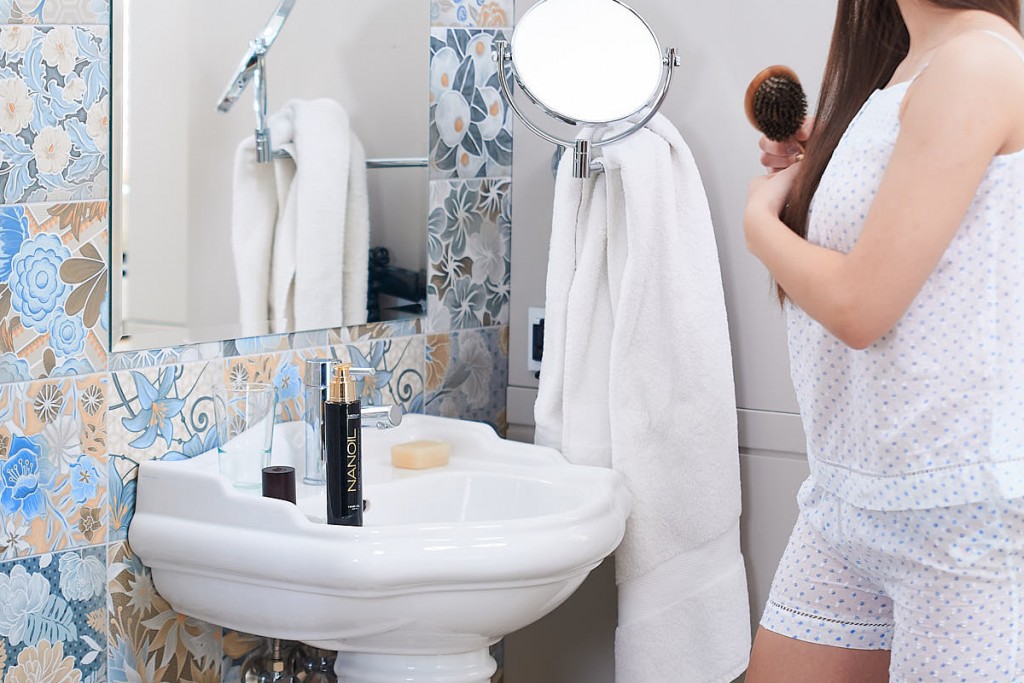 apply Nanoil to dry strands, immediately after drying and combing. As a result, your hair will be shiny and smooth. What is more, this also provides protection against heat, sunlight and external harmful substances.
apply Nanoil to wet hair for intensive nutrition and thorough hydration. As if that were not enough, oil accelerates drying time and makes combing easier. In consequence, styling your hair becomes a lot more pleasant.
Nanoil will enhance the effects of other hair care cosmetics. Simply add it to your favourite masks, conditioners and serums. Ingredients contained in the product will complement each other.
feel free to use Nanoil even several times a day. As a result, your hair will always look phenomenal, and you will feel wonderful. In addition, you deliver exactly what your hair needs at any given time.
if you apply Nanoil directly to the scalp, follicles will be strengthened and thoroughly nourished. To improve the effects of the cosmetic,  gently massage your scalp with your fingertips. This way vitamins and other valuable ingredients will quickly gets into the bulbs and nourish them. Thanks to the massage, you will be able to relax yourself.
are you aware of the fact that Nanoil can also be use by men? It will be especially useful for those gentlemen, who suffer from excessive hair loss. Additionally, men who like to grow their beards will also benefit from applying the cosmetic. If used regularly will improve the appearance of male facial hair.
5. When can be the first results of Nanoil treatment noticeable?
You will see the results after 30 days of use! However, remember that only regular treatment will ensure desired effects. What will happen if you forget about a few applications? Do not worry, it will not have negative influence of the final result. All you need to do is to apply the product two or three times a week and the appearance and condition of your hair will significantly improve. After finishing the treatment, you can still use Nanoil to provide even better nourishment, protection and reinforcement.
visit website: nanoil.co.uk